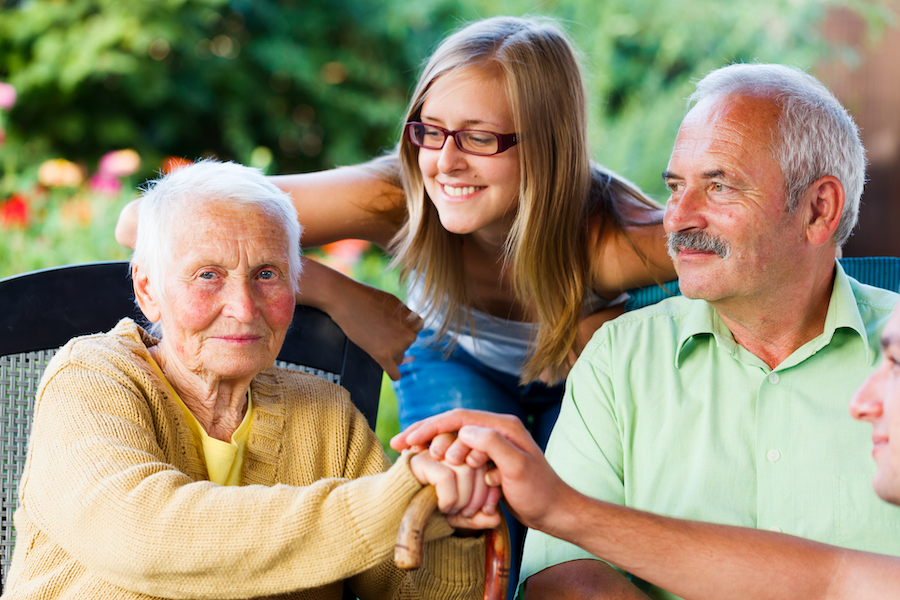 Our Memory Care Neighborhood is designed specifically for residents with Alzheimer's, dementia or other memory loss conditions. We provide a comfortable, secure, home-like environment featuring outdoor courtyards that offer fresh air, walking space and sunshine and tie in with a community room and dedicated dining area. As a community familiar with dementia, Alzheimer's and other memory care conditions, we talk to families regularly about their options. Our goal is always to be a resource for families as they explore their options in supporting a loved one.
Based on the comments we receive we've organized 10 questions you should ask when looking for memory care for your loved one.
1. How large is the community?
Memory care communities range from hundreds of apartments and residents to smaller boutique communities with 100 or less people and every size in between. Be sure to find out: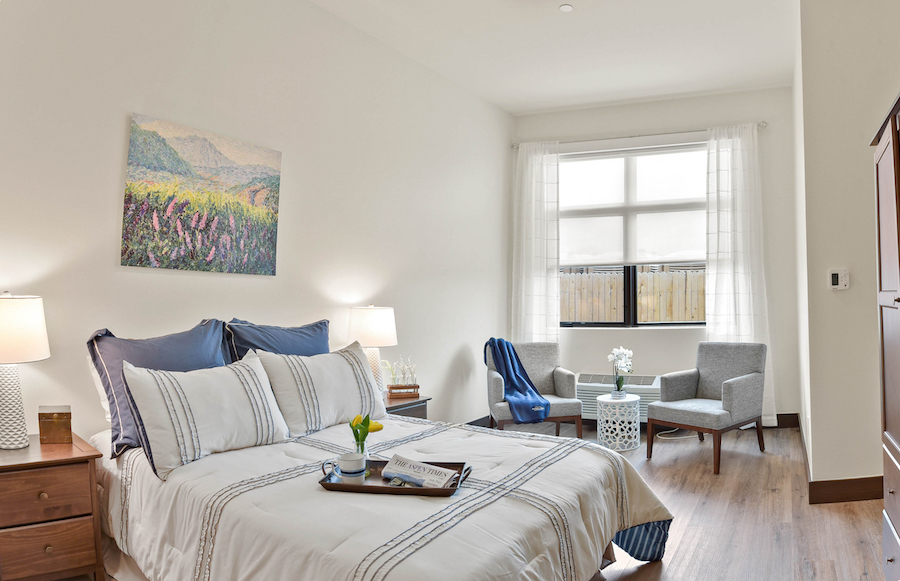 How many resident apartments are there?
What size are the apartments?
Are there private and/or companion residences?
What are the indoor spaces like? Is there an activities room, fitness and wellness center and plenty of community gathering places?
What type of outdoor spaces are there? Are they secure?
2. Who is the leadership team?
The leadership team ensures the community is safe and clean, offers plenty of opportunities for socialization and that residents are well-looked after. Meet with the leadership team and members in the memory care segment of the community you are considering to get a sense of their philosophy of care and how they interact with residents and their family members.
3. What is the staff like?
Memory care communities have specially trained personnel and are often staffed with a Resident Care Director who oversees the care team and residents' health needs. It is important to know what level of care can be provided to your loved one in the community and how outside care is managed.
4. How do team members interact with residents?
Observe how a community's team members interact with residents. If possible, speak to family members of a current resident to find out how they interact with the caregivers. You should feel very comfortable with the care team and have a good relationship with them.
5. What kind of training do the caregivers have?
People living with Alzheimer's or other types of dementia require specially trained caregivers who understand the signs and symptoms of both. They should have experience caring for those with dementia and be capable of managing any situation, no matter how unpredictable. People living with dementia often experience extreme anxiety and confusion, may be prone to angry outbursts or try to leave the community alone, and require caregivers who are prepared to calmly redirect that energy and address these issues.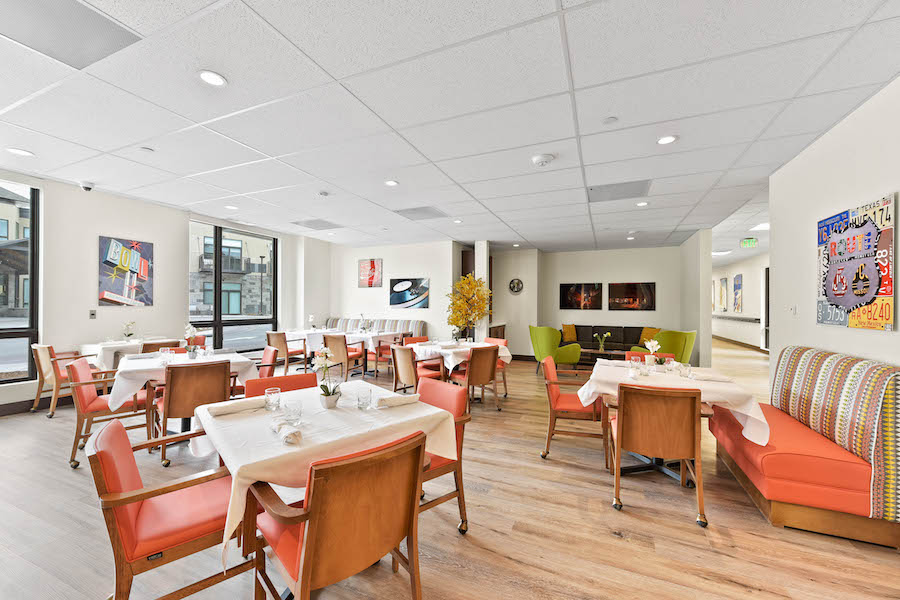 6. What is the dining program like?
Memory care communities typically offer three meals a day with snacks available in between. Ask to see a sample menu. Visit the dining room, inspect the food that is being served and inquire if special diets can be accommodated. Also ask where the food is sourced from and what percentage of it is served from fresh, not frozen.
7. What does a day look like and what activities are offered?
Many studies show people living with dementia or Alzheimer's greatly benefit from specialized life enrichment activities like creating memory books, taking art or music classes, or attending fitness classes. Ask what kinds of activities are scheduled and who supervises them. And importantly, see how the team will accommodate the interests of your family member into the daily routine.
8. What is included in the monthly cost?
Always find out what is included in the standard monthly fee. All meals, comprehensive resident care, assistance with activities of daily living, medication management, maintenance, housekeeping, laundry services and community activities should be included.
9. What additional costs are there?
Be sure to ask what is not included with the base monthly apartment rates and what are typical extra expenses like community living fees and incontinence programs. This is important for creating a realistic budget for your loved one's care.
10. Does the community offer care options?
As we age, our needs change. Some communities offer just independent living, others just assisted living, and others just memory care. It's nice to know when you research a community that it has options for you or your loved ones if health needs change. It's much less disruptive to get additional support and care in the environment you live in than to move later in life.
At Sopris Lodge at Carbondale, we help families find the best living situation to meet their loved one's needs. Call 970-876-6008 or contact us online if you have questions or would like to schedule a personalized tour.