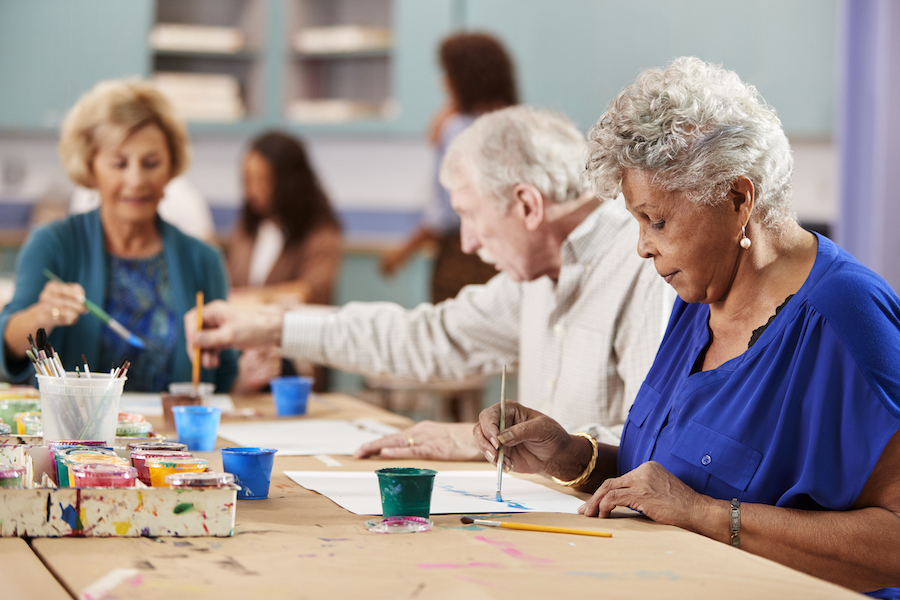 Caring for a loved one living with Alzheimer's and other forms of memory loss is challenging. Increasingly, families are turning to supportive day programs that offer seniors support during the day. When a caregiver is busy with work, running errands, or just needing some personal time to relax and focus on their own health and well-being, a day program ensures their loved one is safe, well-cared for, and enjoying their time away from home.
Sopris Lodge at Carbondale Senior Living recently launched the Day Retreat at the Lodge day program for individuals who need assisted living or dementia services during the day. Located in our memory care neighborhood, program participants spend time with peers with similar interests and enjoy healthy and delicious meals and snacks with access to a full array of supportive services and exceptional amenities. They have the opportunity to participate in community events and activities in a safe and engaging environment. It is also a great way for older adults to get to know our retirement community before considering a short-term respite stay or becoming a permanent resident.
Socialization
Loneliness and isolation are common issues many seniors struggle with as they cope with memory loss and decreased mobility. Day programs allow older adults to participate in social activities, games, music, and opportunities for growth and learning alongside friends in a safe and supported environment with specially trained caregivers nearby to assist as needed.
Independence
Getting out of the house and having choices when it comes to what activities they are involved in, whom they spend time with, and even what to order for lunch promotes independence and confidence in seniors. The freedom to have more say in their daytime activities can also boost their mental and physical health and overall well-being.
Quality Care
Older adults enrolled in a day program are surrounded by dementia-care professionals who offer supportive services like medication and incontinence management and assistance with activities of daily living. They are also adept at handling unusual or aggressive behaviors that can be associated with memory loss and ensuring that program participants are safe and comfortable at all times.
Benefits of Day Programs for Caregivers
Peace of Mind
When it isn't possible to be with a loved one, day programs offer caregivers peace of mind knowing their loved one is engaged in fun activities with peers while being looked after by specially trained professionals in a safe and supportive environment.
Better Care
Caregiving for a loved one living with memory loss requires time and energy. That's why it's essential for caregivers to learn how to cope with daily challenges and avoid burnout. Utilizing a day program like Sopris Lodge's Day Retreat at the Lodge can provide a much-needed break for caregivers to focus on their own health, relax, and rejuvenate so they can continue to manage the demands of caregiving.
The Day Retreat at the Lodge is available from 7 a.m.-7 p.m. on weekdays with half and full-day options. Call 970-251-1635 to learn more or schedule an assessment.