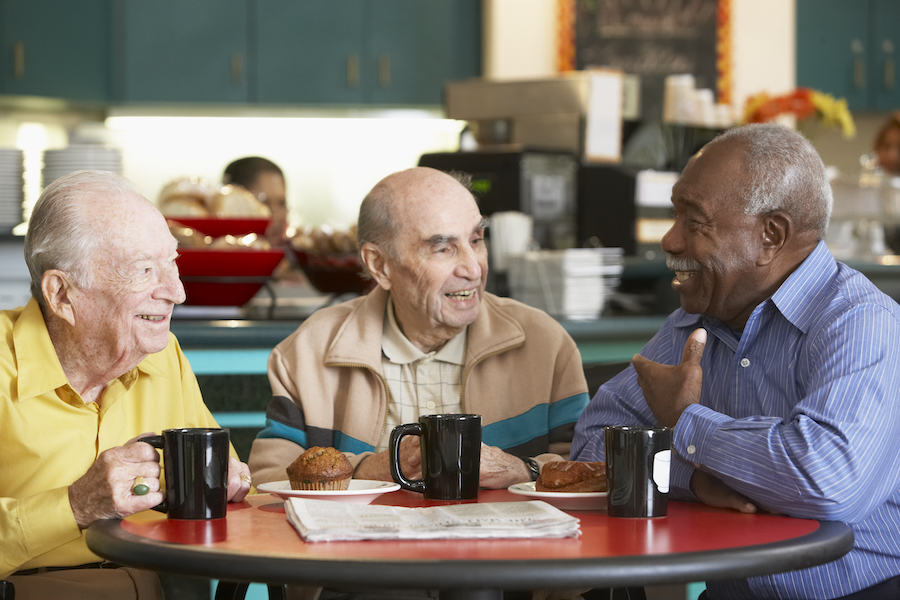 For over half a century, researchers have focused on the importance of community and a sense of belonging as factors boosting human health. Social connections are essential for health and well-being at all ages, but experts have found they are especially important for promoting health in later life. In a bad news, good news situation, we can't avoid declines in physical, sensory, and cognitive function as we age. That's the bad news. On the flip side, social functioning remains malleable and can expand as we age – in other words, social connections in later life are strengths that can boost mental health and well-being.
Why do social connections matter? The list is long, including disease prevention, fewer physical health problems, longevity, improved cognitive function, better self-esteem, purpose in life, and a sense of belonging—especially powerful for older adults.
It turns out, people who are confident with their place in the world are less likely to question their faith and beliefs, providing stronger spiritual health. This sense of belonging is so important that seniors who have that sense report their health as higher than those who have a lower sense of community—regardless of their actual state of health.
Over the last two years, the pandemic has reminded those of us in senior living how important social connections—and being part of a community—are to well-being. Even when we had to stay "socially distant," the residents in our community remained connected, even if just to open the apartment door and participate in a sing-along, visit with team members throughout the day, or connect with family and friends via Zoom, Skype or Facetime, which we helped to facilitate.
As things "open up" again and people return for tours, we have heard the same thing from many of our prospective residents and their families – being home alone just wasn't working. The National Institute on Aging estimates three out of 10 American seniors live alone, and the pandemic left many too isolated and without social connection.
Seniors Staying Connected
Yes, we agree that social connections are important. Even the American Public Health Association highlights that socialization improves mood, cognition, memory recall, and is associated with healthy behaviors, including exercise. But as we age it can be more challenging as friends and family may pass away, physical limitations make it harder to get out and visit, and busy families are often caught up in their own lives. Fortunately, there are lots of ways to connect with others socially, but older adults have to be proactive in seeking out these opportunities. Here are some ideas for seniors:
Exercise classes and walking groups
Happy hours and group outings
Regular phone calls and video conferences with friends and family
Bingo or card games
Billiards, darts and other parlor games
Fitness and other health classes
Attending lectures at senior living communities (usually free!)
Join a support group
Organize a coffee group to talk sports, current events, or knitting, whatever feeds your fancy
As a WellAge Senior Living community, Sopris Lodge at Carbondale spends a lot of time and energy coordinating events, clubs, and activities for residents living with us. Residents can decide what they want to partake in, but the bottom line is they have choices to connect socially. Even the introverts who enjoy a good book in their suite for most of the day love to see their neighbors at dinner. We have dedicated team members whose job is to organize the social events – and get folks involved. If you'd like to learn more, give us a call as we like to think of ourselves as a resource to local seniors and families.
Considering a move to senior living for yourself or a loved one? Call 970-876-6008 or contact us online to learn how Sopris Lodge at Carbondale helps foster socialization and keep seniors connected.