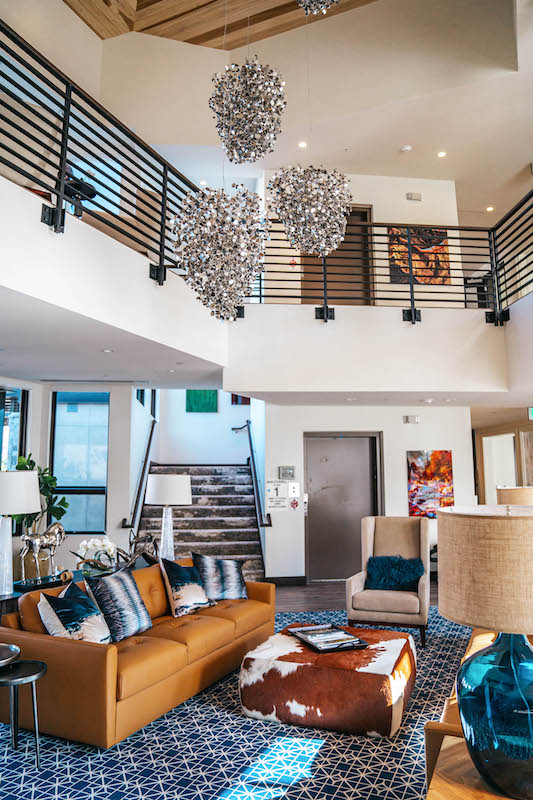 Sopris Lodge at Carbondale is situated on the western edge of downtown Carbondale, near the True Nature Healing Arts center and the Rio Grande Trail, offering residents a comfortable respite in a quaint Rocky Mountain town. The interior design will incorporate some of this mountain, relaxed vibe.
While the architecture for the campus was handled by Z-Group Architects of Aspen, interior design touches were managed by Cherie Storm, owner/principal of Storm Designs, also from Aspen. The interior design concept for Sopris Lodge emulates a homey, residential style of design that diverges from traditional hunting lodge décor. It's a contemporary aesthetic featuring warm interiors and touches of wood, leather finishes and hair on hide with natural light and sweeping views.
Cherie specializes in high-end residential and commercial design, and she worked closely with the Z-Group on creating a comfortable, classy and appropriate design for Carbondale.
For the independent and assisted living interiors, the design includes a camel, brown, blue and cream color scheme with rustic touches to make the space both intimate and inviting for residents and visitors. Inspired by the local landscape, the design also includes rural charm of mountain living with natural elements, fabrics and materials.
The furniture in the independent living foyer and lounge is leather, with hair on hide, fur and sheepskin details used for the pillows. Other features include a wood treatment in the bistro, metal detailing, light fixtures that resemble quaking aspen leaves, abstract artwork, and a cozy hearth room with an oversize double-sided fireplace.
The Sopris Lodge memory care neighborhood includes wider hallways, designed to mimic city streets, lined with movie memorabilia and vintage ski posters.
To highlight what Sopris Lodge offers future residents, the community has staged three model apartments, one each for independent living, assisted living and memory care.
Sopris Lodge at Carbondale offers an enriching lifestyle and access to care in a relaxed, Rocky Mountain setting, where team members are committed to helping residents live well and age well. Give us a call at 970-876-6008 today to learn more about our exciting new community!