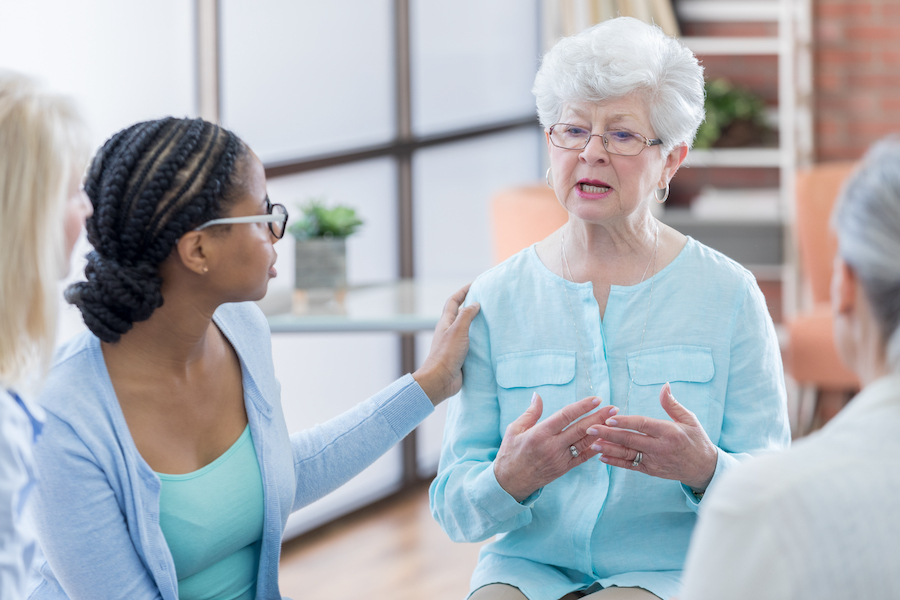 When families are navigating life with dementia, Alzheimer's, and other memory loss conditions at home, it can be a challenge. It's important for caregivers to get the proper resources and education so that everyone is supported in this difficult journey.
At Sopris Lodge, our goal is to always be a resource for families and members of the local community as they explore their options in supporting a loved one living with Alzheimer's or other forms of dementia. That's why we provide programming opportunities and offer a monthly support group to help those searching for the best memory care community. Through ongoing lectures with industry experts, sponsored talks with the Alzheimer's Association®, and caregiver support groups, our retirement community strives to provide memory care resources to families, partners, and other caregivers.
Caregiver Support Group
To better support families and spouses of a loved one living with progressive dementia, we recently created a monthly Memory Care Support Group. A member of our leadership team recently became a certified facilitator through the Alzheimer's Association and these groups meet on the second Tuesday of every month.
Events & Sponsorship Opportunities
To further support those with a loved one experiencing memory loss, Sopris Lodge hosts educational presentations led by dementia care experts from various organizations. We regularly partner with Community Educators from the Alzheimer's Association to offer discussions covering topics about understanding Alzheimer's and dementia, how to respond to dementia-related behaviors and effective ways of communicating with a loved one experiencing memory loss. These events are always free and open to the public.
And in September, we will assemble the Sopris Lodge Squad team of walkers to participate in the Rocky Mountain Walk to End Alzheimer's®, which helps raise funds to support research efforts and discover methods of treatment and prevention for Alzheimer's and other dementias. In fact, we're hosting a silent auction at our upcoming Seniors Resource Fair benefiting the organization. Sopris Lodge is proud to sponsor this annual event once again.
Sopris Lodge at Carbondale Senior Living offers independent and assisted living, memory support, respite care, and day retreat services. Call 970-876-6008 or contact us online if you have questions about our memory care community or would like to attend one of our upcoming events.