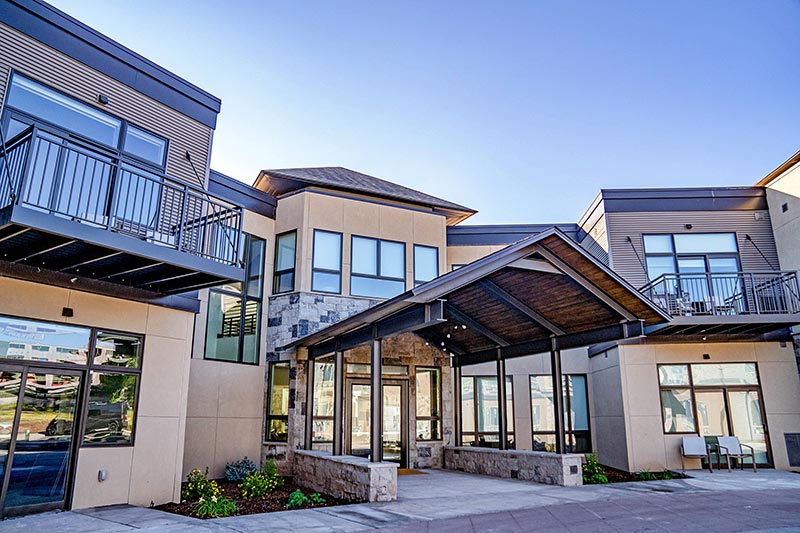 CARBONDALE — Sopris Lodge at Carbondale, the newest retirement community in the Roaring Fork Valley for seniors aged 55-plus, has officially opened at 295 Rio Grande Ave. in Carbondale. The intimate new campus offers independent living, assisted living and memory care residences, and is situated just blocks from downtown Carbondale.
Residents begin to move into the independent living apartments in July. Pending licensure approval from Colorado officials, residents can begin to move into the assisted living and memory care residences this fall.
"We're thrilled to officially open our doors, welcome new residents and introduce our new senior living community to our neighbors here in Carbondale," said Mike Luciano, Executive Director of Sopris Lodge at Carbondale. "We hope our services and accommodations help local seniors to remain near friends and families in a safe, comfortable environment."
Sopris Lodge offers 74 apartments, consisting of 27 independent living residences, 23 assisted living residences, and 24 memory care studios in a separate, secure neighborhood setting. Services and care plans are tailored to residents' interests and needs, with an emphasis on resident-centered wellness that engages the social, spiritual and physical components of a fulfilling lifestyle.
"It is with great excitement that we can welcome our residents to move into Sopris Lodge at Carbondale" said Jay Moskowitz, CEO & President WellAge Senior Living. "We are very proud of the commitment and effort that went into every detail of our new community."
Sopris Lodge's independent living residences feature a choice of studio, one- and two-bedroom apartments – complete with high-end finishes, walk-out balconies/patios, washers and dryers and modern technologies. The assisted living residences feature studio apartments with kitchenettes and walk-in or wheel-in showers. Sopris Lodge's memory care neighborhood provides a comfortable, safe and secure environment in a home-like setting that offers person-centered care 24/7.
Residents of the upscale retirement community have access to a full array of exceptional amenities and services, including a salon; concierge, housekeeping and laundry services; life enrichment activities; care programs led by an experienced Wellness Director; chauffeured transportation to appointments; covered parking; storage lockers; spacious common areas; a library; fitness center; a therapeutic outdoor hot tub and more. Sopris Lodge's campus is pet-friendly and equipped with advanced technology for residents' security, safety and entertainment.
Operating like a stylish hotel, residents will enjoy an authentic restaurant-style dining experience that offers healthy, gourmet cuisine prepared by a professional chef. Served in a variety of on-site dining venues, including an all-day bistro, menus incorporate seasonal ingredients, fresh herbs, and homegrown vegetables sourced from the community's on-site greenhouse.
"Sopris Lodge is a place where residents can truly feel at home and families can feel complete peace of mind," Margie Guerrieri, Regional Marketing & Sales Director at WellAge Senior Living, said. "Every member of our team was hand-picked for their outstanding qualifications and training in senior care, and our amenities and services are top-notch."
Conveniently located on the western edge of Carbondale, Sopris Lodge's luxurious senior living campus is within walking distance of downtown's retail shops, restaurants, parks and art venues. It is also adjacent to the Rio Grande Recreational Trail and True Nature Healing Arts Center.
Architecture for the Sopris Lodge campus was handled by Aspen-based Z-Group Architects, development and construction managed by Glenwood Springs-based Rocky Mountain Senior Housing, and interior design was handled by Storm Designs out of Snowmass.
Sopris Lodge is managed by WellAge Senior Living, which manages senior living communities throughout Colorado, Nevada and Oklahoma.
For more information or to schedule a tour, please contact Mike Luciano at 970-340-4444 or mluciano@wellage.com or visit www.soprislodge.com.